Parnassos is one of the most beautiful mountains in Greece, full of Kefalonitika fir with dense vegetation and rare natural beauty that attracts visitors all year round. In this mountain open from December to early May, at an altitude of 1600-2250 meters, the Cellars and Fterolakka locations, Parnassos Ski Center, the largest and most organized ski center in Greece.
The construction of the Center began in 1975 and ended in 1976, when it began to operate its facilities Fterolakka. In 1981, the construction of facilities and Cellars, while in 1987-1988 has gone into operation "Hermes", the connecting lift between Fterolakka and Cellar. In 1993 he added the first four-seat aerial lift disengaged technology in Greece, the modern "Hercules", in the 1950 Cellars position.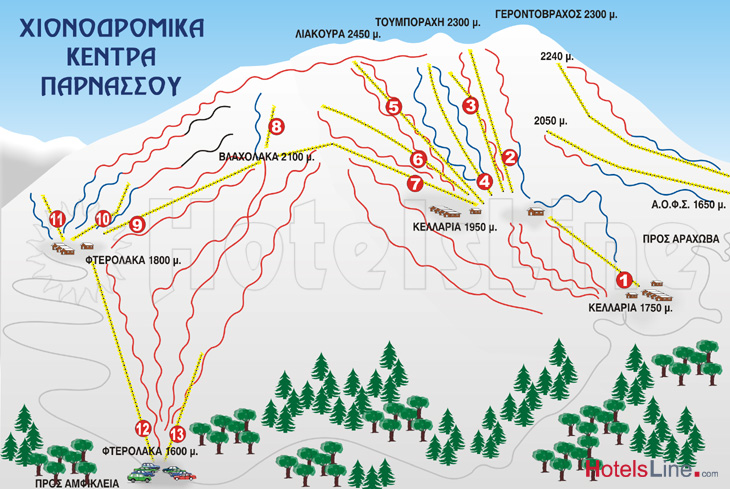 The center has 19 slopes, 7 ski trails, 10 trails and three mini beginner slopes all a total length of approximately 36 km. The slopes are downhill length of 50 m. To 4 km. For beginners, advanced skiers and snowboarders. For adventure lovers, there are 12 off-piste "black" routes with deep snow and lots and lots of adrenaline. The Center is distinguished for its high level of safety in facilities, machinery, and generally good function.
Parnassos Ski Centre. starring in the preferences of the skiers as it is very close to Athens, Lamia and Patras and facilities, enabling it to serve a large number of visitors and skiers. In the center are two cafeterias and a restaurant-chalet, ski learning schools and snowboarding, ski rental shops and storage service with a playground for younger guests. From this year, operating for the first time in 1750 Cellars position, maintenance shop for skiing and snowboarding, with the most advanced technological machinery.
Parnassos Ski Center provides all skiers and visitors medical insurance.